Menu
Appetizers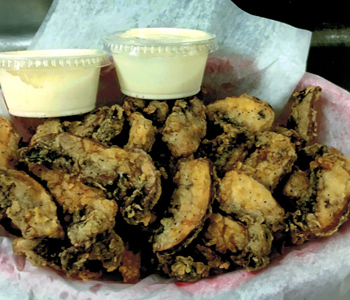 Sample Platter

Cheese sticks, Jalapeno Poppers, Mushrooms & Cheese Ball Mini $5.95 Mega $9.98

Deep Fried Portabella Mushrooms

$6.95

Jalapeno Poppers

$6.50

Breaded Cauliflower

$5.95

Mozzarella Sticks

$5.95

Beer Battered Onion Rings

$6.25

Homemade Onion Straws

$6.95

Chicken Wings- Hot or Spicy or BBQ

6/$5.50 12/$11.00

Popcorn Shrimp

$5.95

Popcorn Chicken

$5.95

Cheese Balls

$5.25

Cheese Fries

Fries smothered in 3 different cheeses with bacon & jalapeno peppers $6.95

Pepperoni Sticks

$5.75

Half Order $2.90

Breaded Mushrooms

$5.95

Shrimp Cocktail

$12.95

request your favorite dipping sauce: Marinara, Ranch, Meat Sauce, Horseradish, Shrimp Sauce & Onion Dip
Italian Breads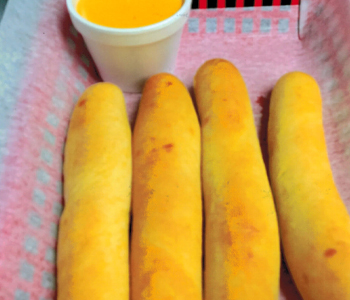 Breadsticks with Cheese

Half $2.05 Full $3.95

Garlic Bread

Half Loaf $2.05 Full Loaf $3.95

Mozzarella Bread

Half Loaf $2.95 Full Loaf $5.75

Cheese Sauce

$2.50

Tomato Sauce

$1.25
Salads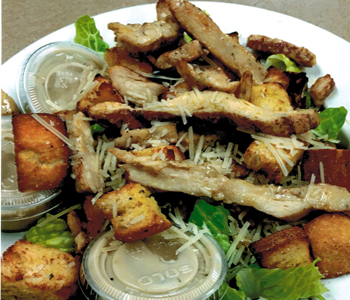 Popcorn Chicken Salad

$9.95

Grilled Chicken Salad

$9.95

Individual Salad

$2.95

Caesar Salad

Small $4.25 Large $6.25

Chef Salad

Ham, Bacon, Croutons, Onions, Green Pepper, Tomatoes, Eggs & Fresh Mushrooms $11.95

Spinach Salad

Spinach, Purple Onions, Eggs, Mushrooms, Bacon & Hot Bacon Dressing Large $9.95 Small $7.95

Chicken Caesar Salad

Grilled Chicken, Black Olives, Croutons, & Parmesan Cheese $10.95

Bowl of Salad

Feeds Four $7.75

Dressings:

Honey Mustard, Blue Cheese, Ranch, French, 1000 Island, Italian, Caesar, Fat Free Ranch, French, & Lite Italian
Kids Menu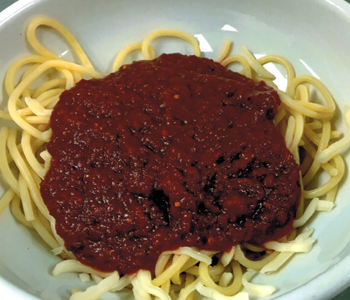 Ages 10 and Under Only
Includes Soft Drink $4.75
Individual 7" Pepperoni or Cheese Pizza

Spaghetti with Meat Sauce- Substitute Alfredo Sauce for $1.50 more

Ravioli- Meat or Cheese

Ham & Cheese ½ Sandwich

Chicken Strips (2) with Fries

Corn Dog & Fries
Desserts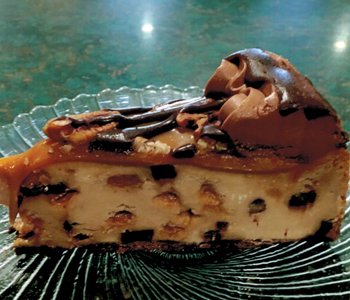 Cheesecake Varieties

White Chocolate Berry

Turtle Cheesecake

Carrot Cheesecake

Colossol NY

Plain

Strawberry

Cherry

Swiss Chocolate Chalet
Pasta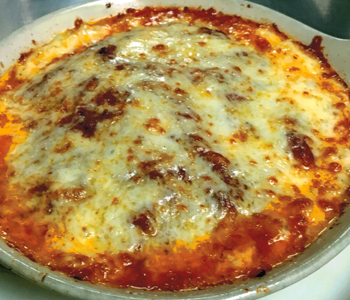 Dinner includes garlic bread. Add a salad for an additional $2.00
(Please specify meat or marinara sauce)
Spaghetti

Bobe's Marinara or Meat sauce ladled over noodles with mozzarella cheese $7.25 Smaller Portion $4.95

Fettuccini Alfredo

$13.75

Grilled Chicken

$14.25

Shrimp $15.95

Add Steam Broccoli $1.75

Meatballs

Spicy Italian meatballs .95 each 4/$3.80

Shrimp Dinner

Deep fried shrimp served with French fries & salad $12.95

Baked Spaghetti

Oven baked spaghetti with meat or marinara sauce & covered with mozzarella cheese $9.95 Small Portion $6.95

Lasagna

Bobe's special meat sauce with a blend of savory cheese layered over pasta $10.95 Small Portion $6.75

Chicken Parmesan

Breaded Italian Chicken covered with spaghetti noodles and marinara sauce then oven baked and covered with a blend of two cheeses. $11.95

Raviolo Florentine

Jumbo stuffed ravioli with spinach, grilled onions, garlic & savory bleu cheese ricotta & mozzarella cheese covered in marinara sauce then baked $12.95

Ravioli

Cheese or Beef. Your choice of meat or marinara sauce covered with mozzarella cheese & oven baked. $10.95
Pizza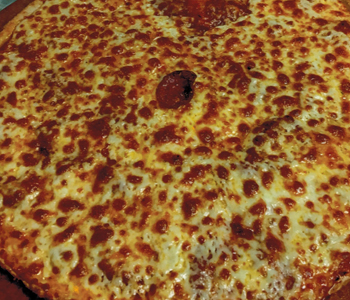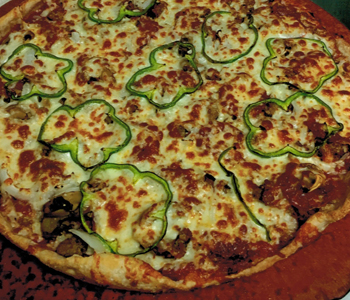 No substitutions on specialty pizzas. Up charge may apply
Cheese
Farouk - sausage, pepperoni, mushrooms, onions & green peppers
3 Cheese - Bobe's special blend of cheddar, mozzarella & Provolone
All Meat - Bobe's sausage beef, bacon, ham, Canadian bacon, & pepperoni
Veg-D-Lite - Fresh mushrooms, onions, spinach, tomatoes, green peppers, broccoli, cauliflower, mozzarella & special sauce
Chicken Ranch - Chicken, green pepper, bacon, onion, ranch sauce & tomato
BBQ Chicken
7"
$4.25
$4.95
$4.25
$6.00
$6.75
$5.95
$5.70
10"
$7.50
$10.95
$7.95
$12.95
$13.50
$11.95
$11.75
14"
$11.95
$17.95
$12.95
$19.99
$19.50
$18.95
$18.75
Toppings
Anchovy
Canadian Bacon
Cheese
Green Pepper
Ham
Italian Beef
Italian Sausage
Mushrooms
Black Olive
Green Olive
Onion
Pepperoni
Bobe's Sausage
10"
$1.50
$2.00
$1.75
$.75
$2.00
$2.00
$2.00
$1.25
$1.25
$1.25
$1.00
$1.50
$2.00
14"
$2.50
$2.50
$2.75
$1.00
$2.75
$2.50
$2.50
$1.75
$1.75
$1.75
$1.50
$2.00
$2.75
Sandwiches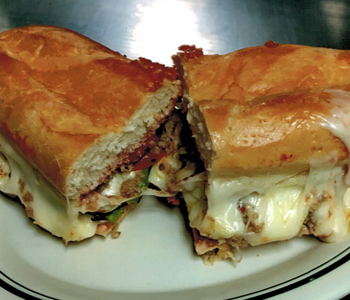 Ribeye Steak Sandwich

Choice cut ribeye on home baked bun with mushrooms, onion, green pepper & mozzarella $8.50

Stromboli

Sausage, pepperoni, mushrooms, onions & green peppers topped with mozzarella cheese Full $6.75 Half $4.50

Meatball Sandwich

Bobe's spicy meatballs smothered in our Italian sauce on Italian bread. $6.95

Chicken Strip Dinner

(4) with white gravy and fries $8.95

Hot Ham & Cheese

Shaved Ham with nacho cheese & mozzarella. Full $6.75 Half $4.50

Breaded Tenderloin

Center cut pork loin. A favorite with fries. $9.95

Fish Sandwich

Deep fried white fish filer on toasted bun with fries. $8.95

Fish Dinner

2 pieces of fish, lightly breaded, deep fried with fries. $14.95

Sandwich platters with chips & pickle

Add $1.00 Crinkle Cut French Fries $1.00 Onions Rings $2.00
Carry Out Specials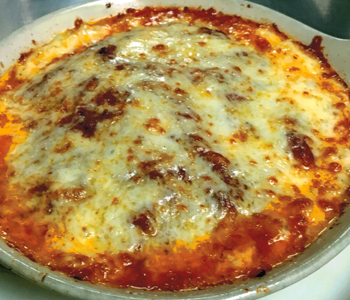 Bucket of Spaghetti

$10.50

Baked Spaghetti Tray

$14.75

Bucket of Salad

$6.95

Meat or Marinara (pint)

$5.00
Beverages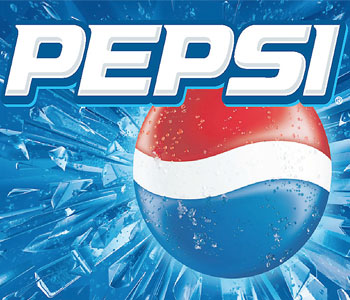 Pepsi, Diet Pepsi, Dr. Pepper, Mt. Dew, Diet Mt. Dew, Lemonade, Root Beer, Sierra Mist, Iced Tea- Sweet Iced Tea
Steak is Served Tuesday - Thursday Only
Steaks & Burgers
Our Steaks are fully seasoned. Please let your server know if you don't want any seasoning.
Veale Creek Cattle Company
All dinners include your choice of two sides and fresh dinner rolls
Choose two from the following:
Tossed Salad, cottage cheese, vinegar slaw, baked potato, sweet potato, steak fries, german fries, green beans, or steamed vegetables.
Ribeye Steak Dinner

Tender, juicy & full of flavor $36.95

Delmonico Steak Dinner

A Veale Creek specialty!$26.95

New York Strip Dinner

$41.95

Prime Filet Dinner

$42.00

1/2 pound Burger Platter

Fresh ground Ribeye$12.95
Steak Temperatures
Rare- Cool center. Med Rare: Warm Center. Medium: Pink throughout. Med Well: Pink Center. Well Done: No Pink
Consuming undercooked or raw meats, poultry, seafood/shellfish and eggs may increase risk of foodborne illness, especially certain medical conditions.
Chicken
Fried Chicken Dinner

1/4 White Meat $10.95

1/4 Dark Meet $8.95

1/2 White Meat $13.95

1/2 Dark Meat $12.30

1/4 Mixed $9.00

1/2 Mixed $12.30

Chicken Liver Dinner

6 Livers $9.25 12 Livers $11.30

Ala Carte

6 Livers $7.90 12 Livers $8.60

Grilled Chicken Breast Dinner

A butterflied chicken breast grilled with our special seasonings $14.95
Pork & Seafood
Pork Chop Dinner

Our hand cut pork chop, butterflied and grilled to perfection $19.95

Grilled Shrimp Dinner

Two grilled sugar cane shrimp skewers$16.95

Jumbo Shrimp Cocktail

Appetizer $12.95 Dinner $14.95

Shrimp Scampi

Shrimp sauteed in garlic butter and served with a side of steamed vegetables $16.95

Blackened Cajun Whitefish

Two grilled with a hint of cajun spices. Healthy choice $18.95

Whitefish

Two lightly breaded, deep fried to perfection $14.95